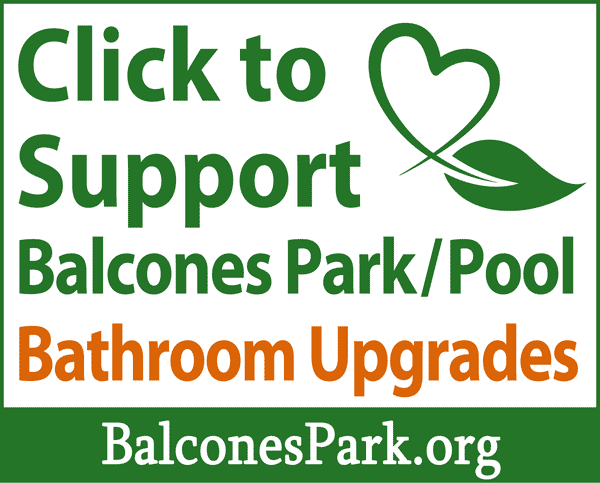 Let's make a difference in our neighborhood! Join us today in improving our wonderful Balcones Park & Pool's Bathrooms!
We hope to try to partner with Austin Parks Foundation and City of Austin to make improvements to the bathrooms on both the park side and the pool side. We are excited that this benefit will enable us to better serve pool guests during the summer as well as park users year-round. Pictures of Bathrooms here.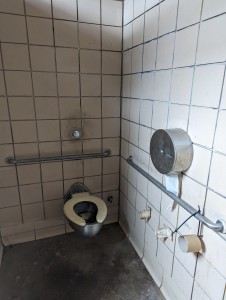 Ideally we would raise enough to replace the toilets, sinks, and lighting fixtures but if not we will do the most with what we receive – starting with the park bathrooms since they are used year round! If we surpass our goal, any additional funds would be used to make additional improvements to flooring, doors, lifeguard hut, and showers.
We currently have $7,650 of $25,000 goal!
Please help us by making a donation or sharing to a neighbor!
Our park is well loved and the new playground and relatively new pool shade has been great in bringing people to our park. These additional Bathroom Improvements would go a very long way in increasing the enjoyment of park users as well so we are hopeful that we can make it happen! Thank you!!
Ways to Donate:
Donating is simple, just choose from the options below. Every penny will go toward the Balcones Park Project and once we raise $25,000 we will work with that to try and get grants from APF to make even more improvements! (Please consider making larger donations via check to save the cost of fees.)
Note: Many employers (Dell, Apple, etc) offer a donor matching program, so you can double your donation by giving through your company to Austin Parks Foundation – Balcones Park. (Please try to note that it is for Balcones Park). PLEASE MAKE SURE TO ALSO EMAIL US at balconespark@gmail.com with the details so we can make sure the funds actually get to Balcones Park.
Mail a check to MNA (if possible please also include the Park Donor Form)
Milwood Neighborhood Association (Co-Adopters of Balcones Park)
P.O. Box 81224
Austin TX, 78708-1224
A face to face drop off. Just email or call 51two-636-9176If you have any questions or technical problems, please feel free to contact us.

If you have ideas on how to help us raise the funds contact us at balconespark@gmail.com or call 512-636-9176!!
PAST IMPROVEMENT PROJECTS:

Click to Donate to help us raise the $15,000 we need in order to get the $200,000 in grants from Neighborhood Partnering Program, Austin Parks Foundation, and PARD!
Austin Parks Foundation has chosen our grant for Balcones Park! They will be funding $50,000 worth of improvements in the park! This is the first milestone to reaching our improvement goals at Balcones Park and will go a long way in much needed improvements. Thanks APF for choosing our park!
Neighborhood Partnering Program has awarded us just under $150,000 in funding to the park. It is important to note that the NPP Grant requires us to raise $20,000 of the $150,000 and put in a number of volunteer hours. We currently have $4,060. Thanks to Textruss, Milwood Neighborhood Assoc and residents!
After much valuable back and forth with the NPP program, PARD, and stakeholders like yourself, we have finalized an application requesting a 20×30 ft Shade Structure at the pool and a 30×40 ft Pavilion (location still to be finalized).
Thank You also to MNA's own Bethany Metzger, Johanna Hedges, as well as the wonderful teams at APF and NPP and PARD for working tirelessly on both of these grants to better our park! Also a Thank You to Four Seasons Community School, Walnut Crossing Neighborhood Association and Adelphi Acre Community Garden for partnering with Milwood NA on this venture!
Interested in joining us March 9th for a meeting about the improvements, fundraising and more. RSVP
Feedback on improving Balcones Park is still appreciated & reviewed so take the survey if you haven't yet.
Thank you for your support.
If you would like to help by making a donation to help us raise the $15,000 cash match we will need: Click Here
If you have ideas on how to help us raise the funds contact us at mnaboard@milwoodna.com or call 512-636-9176!!
Would you use the Trail in Balcones Park to North Walnut Creek when completed? If so, we need your feedback. Click here to take a survey and read where the project is and take a survey on a low water crossing option that we are opposing.