Join us at the Last Community Feedback Meetings for Balcones Park
Our dedicated landscape designers have been working hard using your feedback to come up with two potential site layouts for our new playground and pavilion. Two meetings will be held to discuss in detail both concept plans and gather final feedback on which option our community prefers along with other details. We hope you can join us!

– Thurs., Feb. 9, 2016 at 7pm at Milwood Baptist Church
– Sat., Feb. 11, 2016 at 10am at Milwood Baptist Church
RSVP here
If you cannot make one of the meetings, we hope to also make voting available online & at the library, but the meetings do allow for more details viewings, questions and feedback so we highly recommend trying to attend one of the meetings if you can. If you can't attend, sign up here to get notified about an online survey.
Special thanks to our three amazing designers, Kristy Street, Neal Charles, & Kim Gilbertson, for all of their hard work and dedication to this project. It is very much appreciated!!

We are very excited about the strong NPP Grant Application that we submitted for Creekside Trail Repairs in Balcones Park! We should find out if we are one of the lucky recipients late February or early March!
A Successful 1st Fall It's My Park Day in Balcones Park!
Balcones Park got an excellent facelift last Saturday during the 1st ever Fall – It's My Park Day! A Huge Thanks to Erik Harris, Austin Parks Foundation, Aggies Selflessly Serving In Shaping Tomorrow (ASSIST) who accounted for a majority of our volunteers, Home Depot and i Fratelli Pizza who generously donated their delicious pizza to all of the volunteers!
If you haven't tried i Fratelli Pizza yet you should! A perfect dinner option while holding your breath over the elections maybe… (512) 795-8744 www.ifratelli.net
(Don't forget to tell them Thanks for supporting our park when you call!)
We felt very fortunate that the great group of ASSIST traveled all the way from College Station to break a sweat, get soaking wet and dirty to make a difference in our park! A great bunch of students!
The volunteers accomplished repairs along edge of the basketball court, plantings at the bathroom rain garden, trash pickup, debris clearing in the creek, reclaiming of the playground pea gravel and more! We hope you all see the hard work when you are out next enjoying the park! For pictures click here.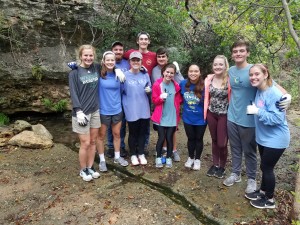 Learn about hopeful repairs to be made on the Creek Trail in Balcones Park HERE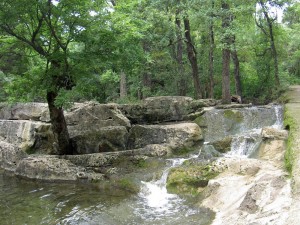 Did you miss the COMMUNITY INPUT MEETING to shape the Future of Balcones Park? That's ok. Take the Online Survey or go to the Milwood Branch Library for a hard copy version.
About the Project:
Balcones Park has been awarded $200,000 in NPP & APF grants and an additional estimated $300,000 in city funds to make the following improvements to Balcones Park within the next two years.
Add shade to the pool
Install a pavilion
Install a new, larger playground
Due to the large scope of the projects and funding, the city requires a park concept plan with community input before implementing these improvements. We have been very fortunate to have 3 landscape designers, Neal Charles, Kim Gilbertson, and Kristy Street, willing to donate their time to create a concept plan for the park which allows the project to move forward full-steam ahead after we acquire solid feedback from stakeholders, like yourselves.
Community Input:
Community input is imperative in this process! We need your ideas! Please share your ideas and help shape our wonderful park. Your input is necessary for creating a long-term vision for our park as well as for solidifying the details of the three large improvements listed above. Take the online survey.
For More Information or to RSVP:
Please contact 512-636-9176 or by email to balconespark@gmail.com.
For those interested in more details, you can find the full commentary at www.balconespark.org.

Hi Park Donors & Supporters!
As you all know, we met our goal of raising $15,000 and secured the $200,000 in grants from Austin Park Foundation and Neighborhood Partnering Program and Austin's Parks & Rec Dept!! The support and generosity was astounding! We had 300+ donors including First State Bank Central Texas, Amplify Credit Union, & Textruss and raised more than $25,000 in less than 2 months – with donations still coming in! We had over 480 sign the petition to get improvements and amassed an email list of over 1,100 passionate Park Users in just a few short months while also meeting a large number of the volunteer hours needed in just 4 months!
NOW for the most exciting part of the update… THANKS to all the support and passion from each of YOU and some critical help from the individuals listed below——we have been able to also secure a NEW, LARGER PLAYGROUND for our park!!!
Nope you didn't read that wrong and it isn't substituting anything… Our Park is now slated to get:
– POOL SHADE to be installed Fall 2016 / Spring 2017 to be ready for the next summer season
– A PAVILION as described by Fall 2017 or Spring 2018
– A NEW, LARGER PLAYGROUND most likely in a new location by Winter 2017 or early Spring 2018
A Huge Thank you to Council Member Leslie Pool, Austin Parks & Recreation Dept (PARD), Neighborhood Partnering Program (NPP) and Austin Parks Foundation (APF)!
And Another Huge Thank you to City of Austin Employees: Marty Stump, Charles Mabry, Brian Block, Ricardo Soliz, Jeff Larsen, Lance Seveska, & Robert Brennes, as well as Neighborhood Partnering Program Employees: Janae Ryan, Justin Goldbabai, Chad Crager, and Megan Heynen, in addition to Council Member Leslie Pool's Advisor: Michael Gaudini, and Austin Parks Foundation Employees: John Rooney, Anne-Marie Adkins, Ladye Anne Wofford and the APF Board! All of these individuals were instrumental in making these improvements happen!!
NOW for the steps that need to take place to see ALL of these amazing improvements happen:
– A Concept Plan for Balcones Park (4-9 months, $) – PARD has allowed us to submit a Concept Plan instead of a Master Plan (2-5 years, $$$) due to the Grant Monies Pending, timeline and cost. Since we will be relocating the playground and pavilion we need to make sure we find the right spot through community input to make the best park possible. Our First Brainstorming will take place during the July 4th Parade & Picnic by having individuals place stickers where they would like to see the future playground be located and more – if we can get it all worked out in time! We will work to have several community input meetings after the 4th as well. We have a tight timeline since we need to get this in as close to October as possible since PARD's Fiscal Year starts over at that time and gives us the best chance for the funds. But we can do it!
– Volunteers are needed for a Balcones Park Booth at the July 4th event to manage the above mentioned brainstorming. As well as for organizing a celebration of these improvements and several community input meetings. Interested? Email balconespark@gmail.com
– Possible Additional Fundraising. While PARD is working to help secure the funds and has committed to doing so… each dollar we contribute will help make the playground that much better. (We also still have our sights set on repairing the Creek Trail before it disintegrates beyond repair as well.)
When we met with Council Member Pool and showed her the large numbers of neighborhood members, donors, petition signatures, volunteers, and feedback, she was very impressed with how our community has come together for our park. Your contribution to these numbers went a long way to help us secure a new playground. So again Thank You!
In the future, we also have high hopes of putting together a gathering to celebrate YOU – our wonderful donors, supporters – and the park improvements, however as you can see our hands are full at the moment as we try to rush these items through, so we will need to ask for your continued patience as we work through this process in hopes of creating an even better park improvement than the original plan had outlined.
As you can tell, our well-loved Park serves so many and will continue to serve more as its amenities increase. We are very proud and excited of the work that our Park Committee has put into securing these commitments from the City and look forward to working with all of you to make them a reality! Please feel free to reach out to us if you would like to serve on the Park Committee or help set up a community input meeting or celebration or have other ideas…
SO pull those signs back out or feel free to give them back and we will reuse them for any future donors. Let's keep the momentum going!
Don't miss the Milwood NA & Walnut Crossing NA's Independence Day Parade & Picnic on Monday, July 4th from 10am to 1pm!
Sincerely,
Your Co-Adopters of Balcones Park
512-636-9176 balconespark@gmail.com
For those interested in more details, feel free to send us an email for the full color commentary regarding the reasons for the new playground and how it came about by clicking here.
Want to volunteer to help us reach the 1,220 volunteer hours needed for the grants over the next 2 years?
Sign-up to be emailed about upcoming events.

Don't Miss this Wonderful Video for Balcones Park created by an Amazing Local Girl Scout Troop with lots of love and hard work!
Click here to watch the YouTube Video!
Interested in Free Yoga in the Park? Or another Program? Give your Feedback…
Take Survey to give your feedback about the time and day that would work best or if you would like to see another program or class offered in the park
Balcones Pool opens Friday, June 3th until August 20. (Closed Mondays.)
Click Here for Pool Schedule.
Balcones Pool still has Swim Classes Available here. Download Aquatics Brochure here. See below for more details.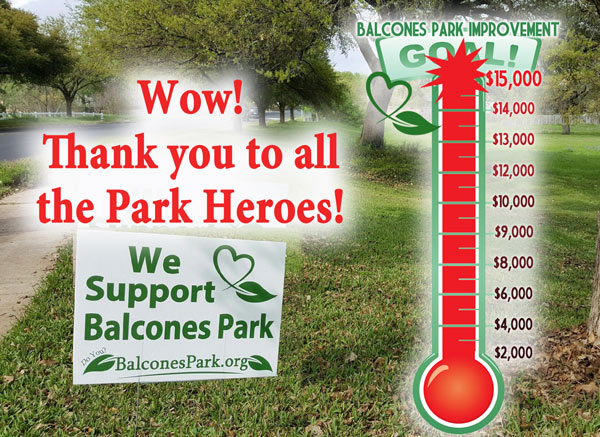 Balcones Park recently received a grant from Austin Parks Foundation and Neighborhood Partnering Program for $200,000 – however on the condition that we raise $15,000 in cash by August 2016 and provide 1,220 volunteer hours in the park over the next 2 years.
Help us by donating, every dollar helps. Donate. If you donate $50 or more, you will receive a "We Support Balcones Park" Yard Sign.
Help us by volunteering. Sign-up here and we will add you on the email list for future clean-up and improvement days at the park!
Learn more about the improvement project that the grant funds will go towards.
About our Park & its Amenities
Balcones District Park is a beautiful park in North Austin. Located at 12017 Amherst Drive, Austin, TX 78727. It covers an expansive 51 acres right off of Mopac and Duval. It has been a well used park for more than 20 years, however it has received little funding for improvements since it was established and is in desperate need.
It is a go to spot for hundreds and has amenities such as: a pool, basketball court, horseshoe pits, washer pits, sand volleyball, playground, trails, open spaces, and baseball field. It also is home to the Endangered Jollyville Salamander and a beautiful creekside walk (after a rain).
The park is the spot of many a morning work-out groups including: Fit4Moms/Stroller Strides, Texas Fit Chicks, Fitness in the Park by APF and more.
A frequent spot for mom's groups, boy scouts, girl scouts, adventures and bike clubs alike.
It is a park with lots of potential and no funding, which is why we are working to fix that!
Balcones Park & Pool Improvement Sponsors are: